Social
Working Environment, Health and Safety

Basic Approach
Based on the concept that logistics quality based on safety and security is one of the sources of our corporate value, the Group strives to create a workplace environment where accidents do not occur.
Policy
MITSUI-SOKO Group Occupational Health and Safety Policy
MITSUI-SOKO Group recognizes that ensuring the health and safety of employees, business partners and other stakeholders is of great importance in our business activities, and promotes the creation of safe and healthy working environments.
1.

We promote the creation of working environments that ensure health and safety, striving for two-way communication with employees, business partners and other stakeholders.

2.

We comply with laws and regulations on occupational health and safety.

3.

We set targets to enhance our health and safety initiatives and promote health and safety management, accident prevention and recurrence prevention to achieve them. This includes the following:

・

Identifying health and safety risks by investigating and analyzing near misses, and implementing measures to reduce them

・

Raising awareness of health and safety through education and training

・

Promoting continuous improvement
June 24, 2021
MITSUI-SOKO HOLDINGS Co., Ltd.
Promotion Framework
Based on the Group Occupational Health and Safety Policy, the entire Group promotes to build a logistics system based on safety and security. Under the Sustainability Committee, the Safety Subcommittee, a cross-group organization, has been established to design, plan, and implement measures to reduce personal injuries and ensure employee safety.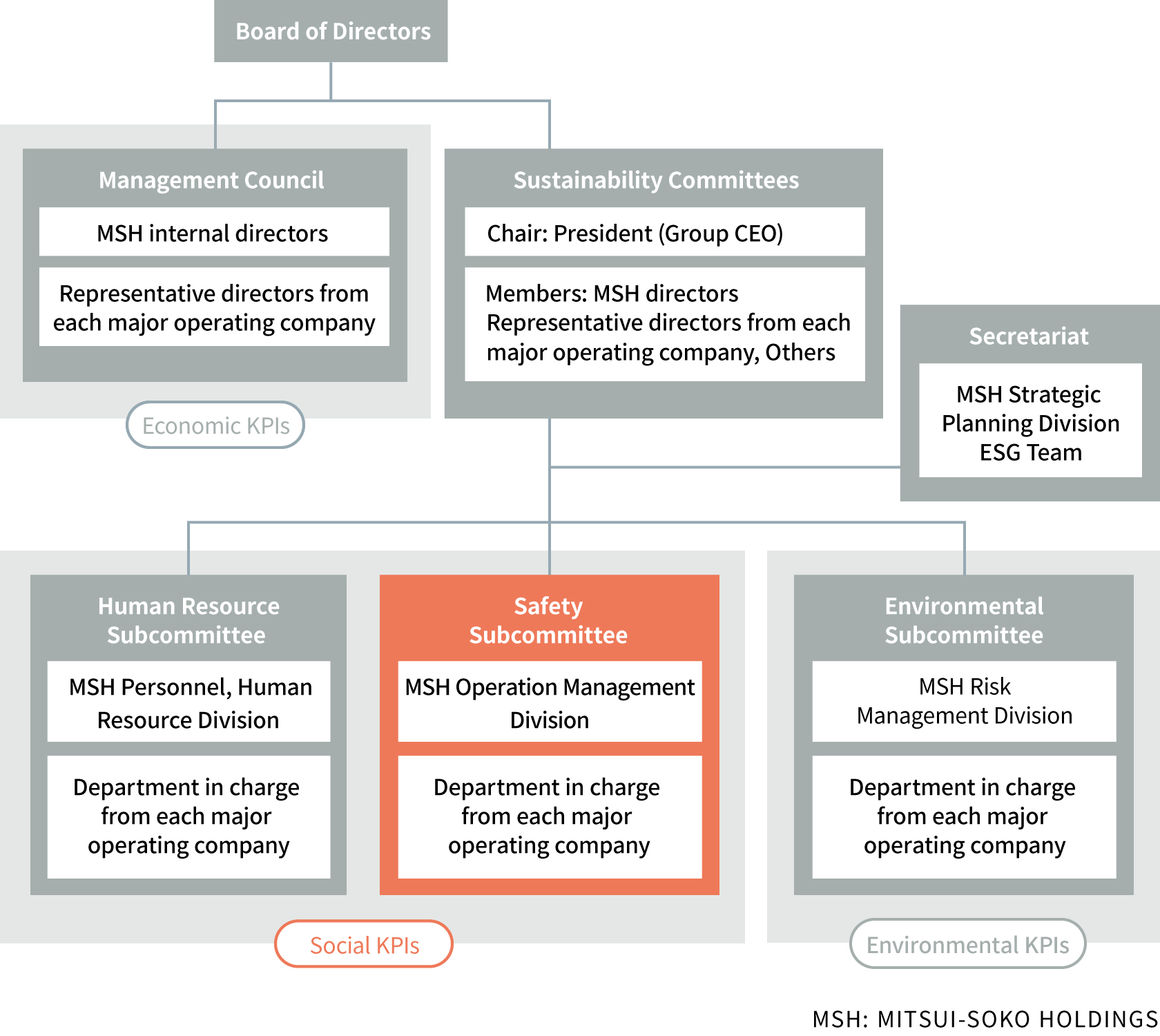 Commitment to Promote Safety
Based on the safety activities of each Group company, the Safety Subcommittee shares the progress of activities toward the goal of zero occupational accidents, ascertains issues, and promotes important measures common to the Group. In addition, each Group company holds safety management study sessions at each business site to improve safety activities and the quality of our business operations. The Group holds regular meetings at each of its transportation companies, as well as promotes activities such as the establishment of uniform standards for safe driving that transcend the boundaries of each company to address vehicle accident prevention as a Group.
Each year, we hold a group-wide Business Improvement Contest to recognize good practices within the Group, and by horizontally sharing the information, we build a corporate structure that will allow the entire Group to continue to evolve.
Working Environment, Health and Safety