MITSUI-SOKO Group's Sustainability
Materiality

Materiality
Based on its PURPOSE of "Empower society, encourage progress," the Mitsui-Soko Group identified materiality with the aim of creating new value and achieving sustainable growth for the Group and for society through its business activities. We will promote initiatives for these priority issues and thereby contribute to achieving the goals of the eight SDGs related to our business, while realizing the sustainable enhancement of the Group's corporate value.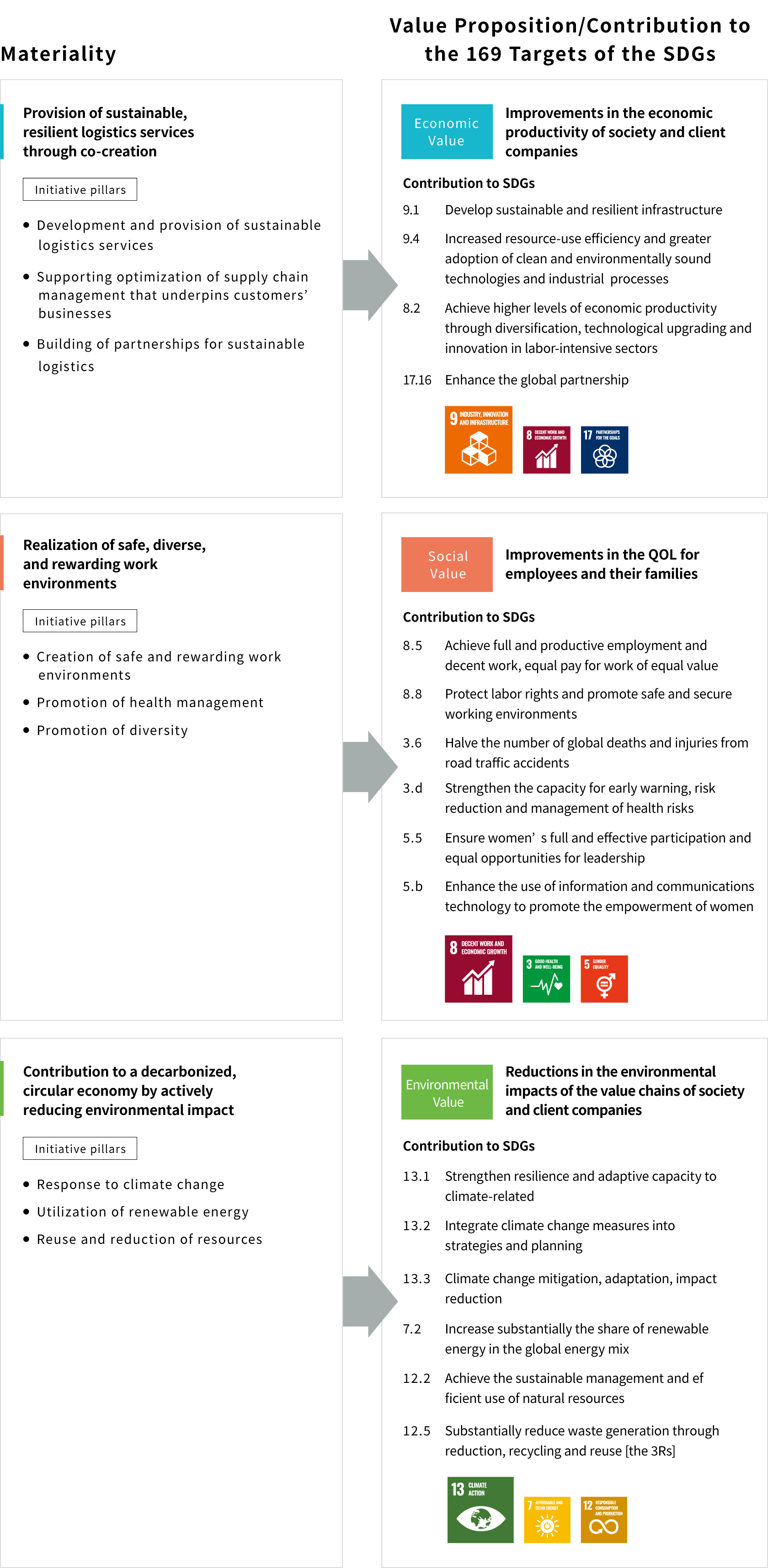 Identification of Materiality
Based on the idea that materiality is viewed from the perspective of enhancing corporate value, and that solving social issues will lead to the creation of medium- to long-term value for the Group, we identified issues that have a major impact on the Group's businesses and are important for stakeholders, especially shareholders and investors, as materiality in 2020.
In addition to global indicators such as SDGs, GRI, and ISO 26000, based on the Group's management policy and discussions at each meeting body, we have comprehensively extracted issues from both the perspective of resolving social issues (creating opportunities) and the perspective of risk through our corporate activities
With regard to the issues identified in STEP 1, we first evaluated the "level of importance for the Mitsui-Soko Group" from the perspective of risks and opportunities in terms of the Group's businesses. Then, through daily dialogue, we conducted interviews with IR departments to ascertain the needs and expectations of shareholders and investors, and also assessed "the level of importance for stakeholders" in the same manner.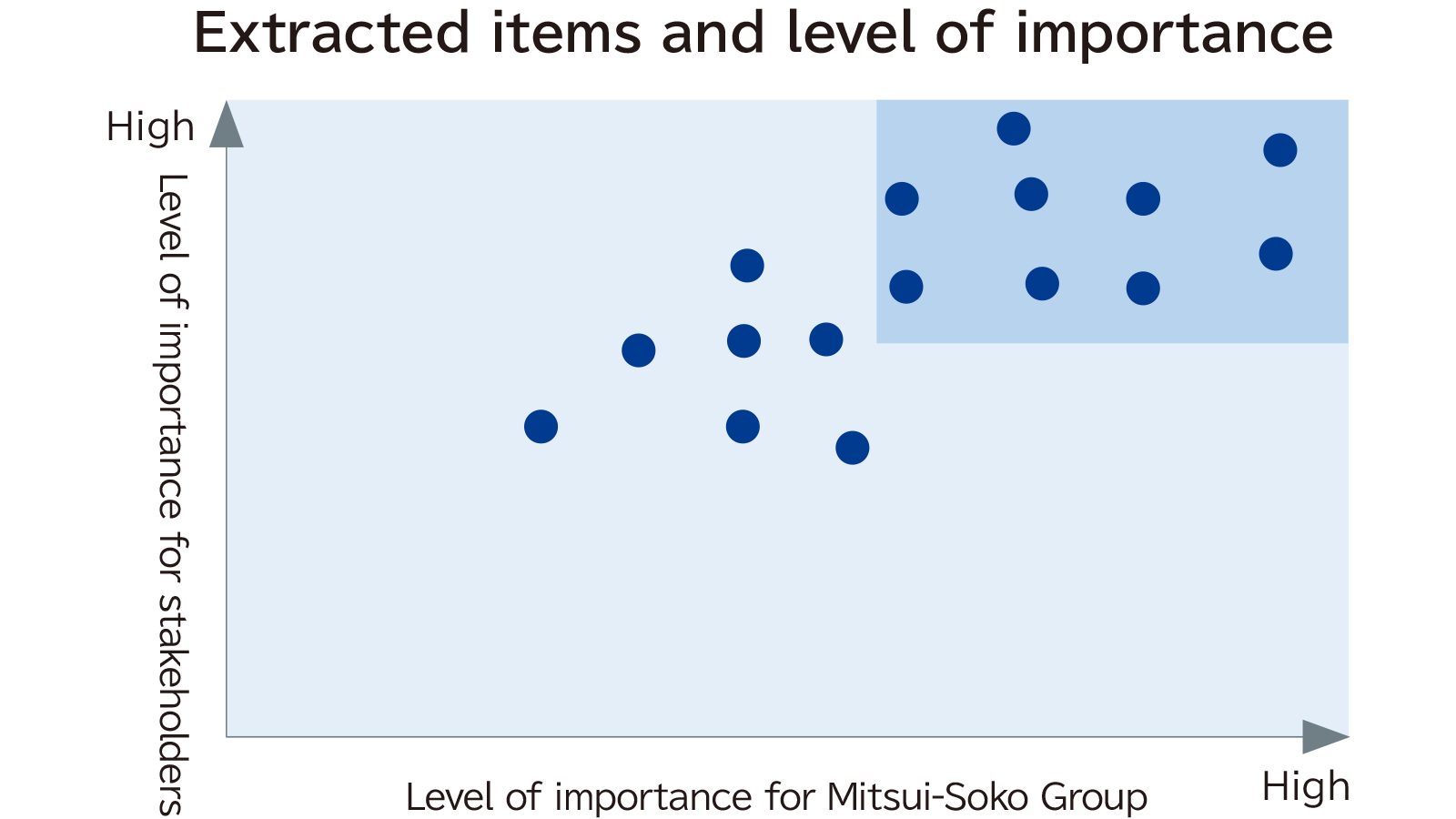 Having discussed the important issues prioritized from the importance assessment result of STEP 2 with internal and external parties and confirmed their validity, the material issues were discussed and given final approval at meetings of the MITSUI-SOKO HOLDINGS Management Council and Board of Directors.
Our Materiality
Economy
Provision of sustainable, resilient logistics services through co-creation
Society
Realization of safe, diverse, and rewarding work environments
Environment
Contribution to a decarbonized, circular economy by actively reducing environmental impact
Materiality KPI
Economy

・Expansion of businesses arising from social issues
・Achievement of high economic productivity and efficiency through DX promotion and innovation
・Expansion of partnerships toward sustainable logistics

Social

・Improvement of employee engagement
・Maintain zero occupational accidents
・Achieve ratio of paid leave taken of 70%※
・Improvement of absentee rate over previous fiscal year's level
・Achieve health checkup take-up rate of 100%※
・Achieve male childcare leave acquisition rate of 30%※
・Achieve female managers ratio of 15%※

※Achievement deadline is end of March 2026

Environment

・Total CO2 emissions (Scope 1 + 2)
50% reduction on CO2 by FY2030(compared to FY2013)
Net-zero by FY2050
・Total CO2 emissions (Scope 3)
We work to reduce emissions throughout our own and our customers' supply chains.
※Note: Please click here to learn more about initiatives for our customers.
・Volume of waste generated
Reduced from the previous fiscal year's level
Improvement of our organization to achieve KPIs
In order to achieve KPIs, it is necessary to promote activities throughout the group under appropriate governance. For social and environmental KPIs, subcommittees have been established as a group-wide organization under the Sustainability Committee, and each subcommittee is responsible for developing and implementing KPI-related measures. Economic KPIs are incorporated into various measures, such as those related to sales and DX, and important matters that contribute to management are discussed at meetings of the Management Council.
Under the supervision of the Board of Directors, the progress of KPIs is regularly reported and monitored to identify issues and areas for improvement at the meetings of the Sustainability Committee and the Management Council. By strengthening the PDCA cycle, which leads to new measures, in this way, we accelerate group-wide efforts to achieve the KPIs.
Initiatives toward Materiality
The Group has identified three materialities for sustainable value creation. To promote materiality initiatives as Group-wide activities, we will set key performance indicators (KPIs), establish implementation systems, and strengthen the PDCA cycle.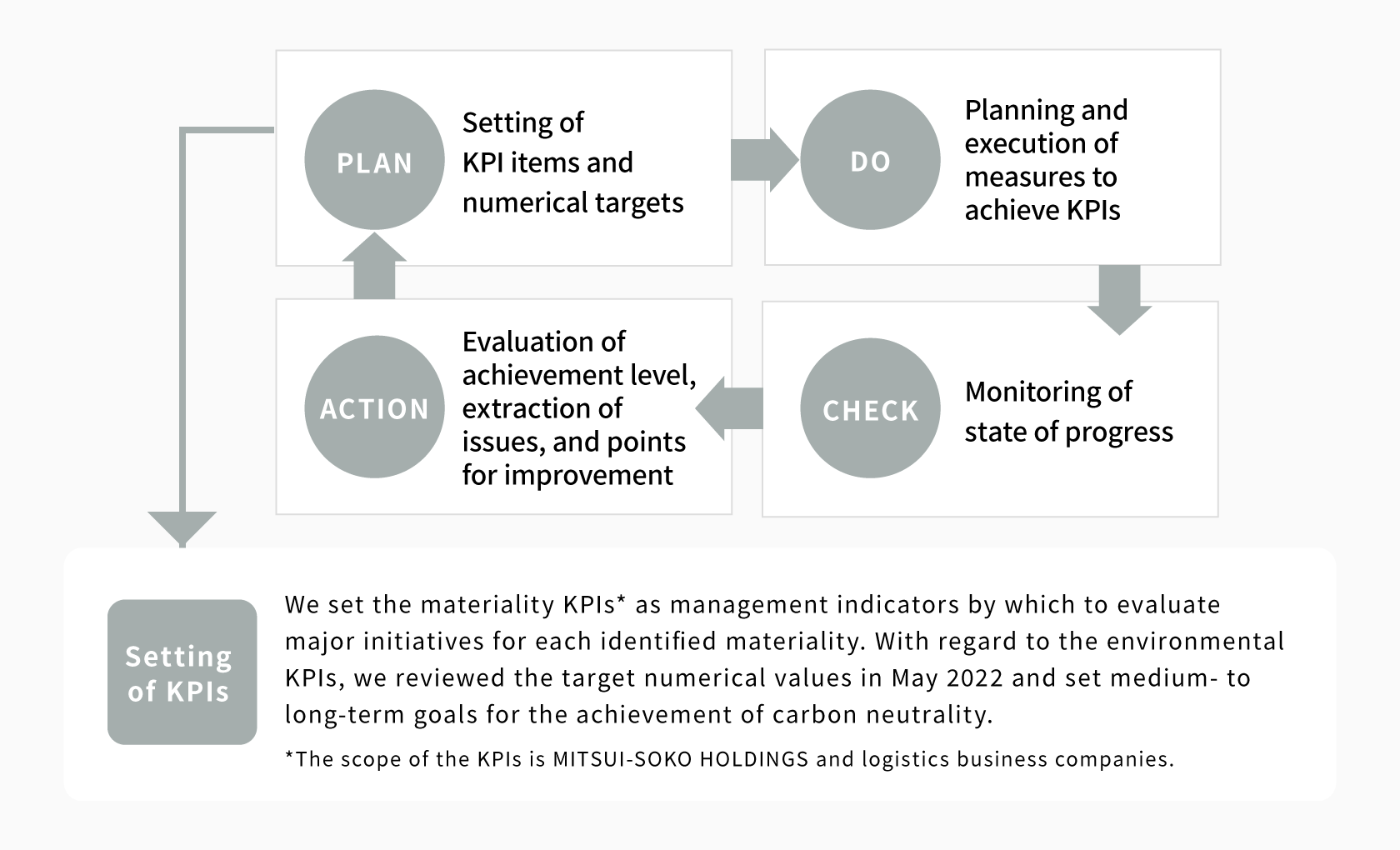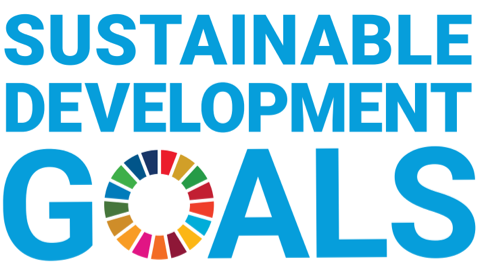 Mitsui Soko Group with SDGs
We will grow continuously with society through dialogue with all our stakeholders and by promoting corporate social responsibility.
We will also incorporate the concept of the United Nations' Sustainable Development Goals (SDGs) for 2030 and aim to contribute to the sustainable development of society through our business activities.