MITSUI-SOKO
EXPRESS Co., Ltd.
Air Transport

Maritime Transport

Customs Services

Moving Overseas
Air Transport
We provide air transport services which fulfill the various and sophisticated needs of our customers. Simply share with us the nature of your cargo and any shipping requirements, and we will coordinate everything, from routine, to customs clearance procedures, to overland transport from the airport.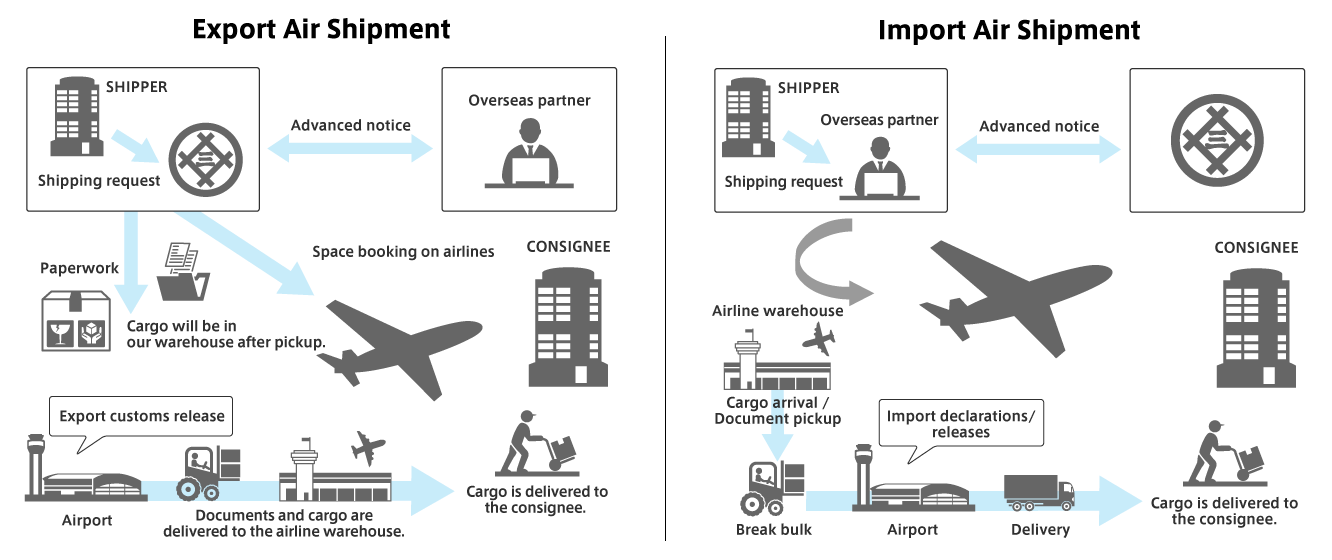 -Air transport of hazardous goods
Leave all of the complex procedures to us
When shipping hazardous goods in an aircraft, there are many steps to comply with, such as protocols in the IATA handbook on hazardous goods, regulations on a per-product basis, standards on volume and packaging, and regulations that each country and airline impose. If you leave this process to us, we will first identify which regulations apply to your goods, then pack them accordingly, with our experts briefing you in an intuitive fashion on what the maximum quantity of shippable goods of that type is. From samples of non-hazardous goods to small lot samples, we can transport specialized cargo fully in compliance with applicable laws and air transit carriers' regulations.
Experts in hazardous goods offer you accurate, on-point support
We have one of the industry's leading number of IATA hazardous goods handling certified personnel, so we can offer you safe and swift transport of this category of products. We regularly invite former International Civil Aviation Organization (ICAO) experts as lecturers, and we engage in ongoing advanced training of our personnel. This is done to not only enhance their level of knowledge, but allow us to adapt to ongoing changes to regulation in the world today.
We are best-in-class in our expertise on handling hazardous goods, and in our past track record.
Within our group of companies, we treat hazardous goods as one of the premier categories of product that we handle, and we pursue ongoing improvements to lead time that result in faster deliveries than other providers. We draw on our long years of expertise in handling hazardous goods to provide you with immediate and optimal support for your flight arrangements when needing flights on the same day as the goods are schedule to arrive, or for cargo of great urgency. We will do everything in our power to ensure you seize new business opportunities.
Providing unique, proprietary services around specialized materials and packaging
We are the exclusive importers of 4G (developed by Duropack in Germany), a form of highly universal fiberboard container that meets UN standards. By purchasing in bulk quantities, we can offer it at the wholesale price, and we also integrally manage storage vessel certificates. We draw on our abundant expertise to offer you solutions to cut costs, ranging from individually packing a variety of cargo using 4G, packing it together using 11G for 50% packaging cost reductions, and more.

Sample hazardous good application form Details on hazardous good transport (categories/packing) http://www.mitsui-soko-exp.co.jp/service/dg/detail.aspx
We host workshops tailored to your needs
Hazardous goods come in many forms, such as paint (inflammable), batteries (corrosive), sprays (gaseous), as well as dry ice, automotive, engines, and more. We host workshops that encompass basic knowledge on what are classed as hazardous goods and on through to procedures and protocols on the transport and handling of these goods. We can also add content to these workshops per your request. If you wish to learn more about shipping hazardous goods, please do not hesitate to contact us.
■Zendama Air
This package enables us to propose the reduction of the total logistics costs, by compressing stock at a customer's overseas sites to necessary and sufficient levels.
This package also adjusts ample stock to adequate levels by increasing the ordering and transportation frequencies and revising stock levels. Furthermore, while maintaining optimal stock, the variation of demands is absorbed through the active use of air transportation, thereby improving cash flow and visualizing manufacturing, distribution, and selling processes, with the aim of enhanced management efficiency.
Refrigerated air transport
Providing a total cool supply chain
We can customize our solutions to your needs and offer bespoke services for everything from collection, packing, customs clearance and partnership with air carriers, refrigeration services after arrival, and more, offering an integrated cool supply chain from end to end. By combining refrigerant and insulation materials, we can provide temperature-regulated transport at your desired temperature (e.g., 2-8°C, 0°C, -20°C or lower). Using incubators at facilities we partner with also allows for preventing initial refrigeration and maintaining products at a consistent temperature from arrival to outgoing shipment. We partner with a fully-equipped bonded refrigerated warehouse facility in the Narita district where we can sort and pack your products while in the warehouse. Ensure that your products stay within the desired temperature range.
Granular transport simulations
Using advanced temperature analysis simulators, we can determine the ideal temperature for transport of your precious cargo. We also offer the 3Step Testing system, where, after having formed a hypothesis against our simulators, we can then conduct refrigeration tests in Japan and launch pilot projects to test new shipping methods. This lets us provide a cold supply chain that is safer and more reliable than others.
High-quality packaging
High-quality packaging
Our expert personnel itemize the models and quantities of cargo we receive from you and conduct full inspections for external damage, then repack the cargo per your needs. We also sort cartons based on weight, taking into consideration quality, and cost.
We have a dedicated packing area at our centers, where we continue refining our packing technology and expertise, training personnel bound for our overseas sites, and developing new tools, ensuring globally uniform quality. The center is itself a classified area, but also has a "highly classified area" in which we can pack items in a confidential manner for clients.
Jointly developed refrigerated storage packing with specialty manufacturer
We have fully partnered with a chemical manufacturer to develop e-Cool, a high insulating packing material catering to the demands of refrigerated cargo, which is more subject to external factors than ordinary cargo. This product has much better insulation than traditional styrofoam, requires no unnecessary power source, and can easily be manipulated. This allows you to cut down on the cost of refrigerant associated with long time storage, and enjoy a product in the optimized size for your cargo that feels almost made-to-order.