MITSUI-SOKO Supply Chain
Solutions, Inc.
Supply chain Solutions

Procurement, Manufacturing and Sales logistics solutions

International Transport

Domestic Transport

Export & Import Solutions

Logistics Engineering Solutions
Supply chain Solutions
In general, the value of a product gradually increases in the production process, but it will gradually decreases after coming into the market. We aim to contribute to the business operation of our client company by improving their inventory and cash flow, so that realize the optimal supply chain.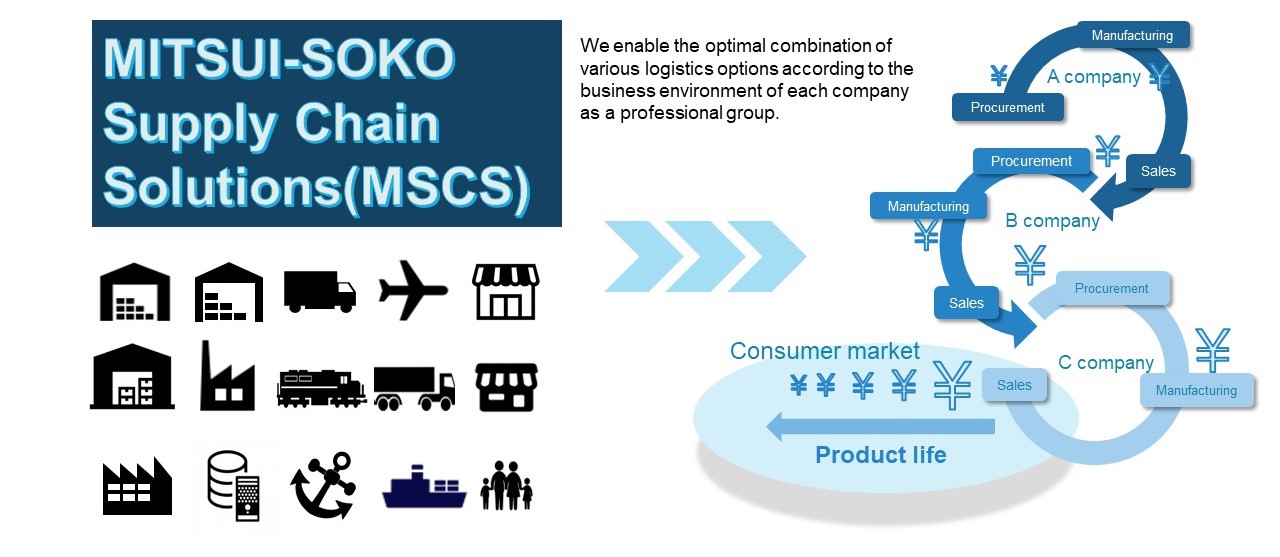 Logistics SCM activities
We analyze QCD (quality, cost and delivery) on supply chains and optimize logistics scheme for our client company, so that they could provide the highest level service for their customers.
Procurement, Manufacturing and Sales logistics solutions
Having a bird's eye view of whole supply chain, we meet our logistics plan to our customer's production plan and provide support in reducing distribution costs, improving lead time, and keeping proper inventory.
Storage, handling, distribution processing
We store any item/part/material in warehouses at location and environment that meets customer's requirement. Handling expertise and years of experience allows us to handle your valuable items with utmost efficiency and safety. In addition, we add value to your products through distribution processing.
Factory Logistics
We contribute to maximize customer's productivity with efficient logistics in receiving of materials/parts, storage, distribution to product line and shipment.
We also provide transportation of manufacturing facility/equipment in case for a new plant, relocation or expansion. Among these services, we take care of transportation and complicated procedures such as customs clearance preparation and delivery to overseas factory in one stop service.
Parts Procurement Logistics
In order to procure raw materials and parts for production efficiently from suppliers, we also develop optimal logistics routes, packing improvement proposals, milk runs, etc., and supply parts that appropriately meet production plans.
Repair Parts Logistics
We provide consistent services covering receiving, storage, packing, delivery, and inventory management for huge number of repair parts. We also provide JIT (Just in time) delivery and acceptance inspection of parts according to your request.
Sales Logistics
We store not only manufactured products in Japan but also imported products from overseas plant, and deliver them to requested sales locations upon delivery orders. We ship and deliver carefully, efficiently, and surely not so as to miss the sales opportunities or losing customer's trust.
International Transport
As business globalization accelerates, customer's supply chain become more complicated. We offer not only maritime transportation, air transportation, and land transportation but also a combined transportation service for various customer needs.
Air Forwarding
Our experienced staffs support consistently international air transportation by making the most of our global network.
Modal Shift
We also propose eco-friendly or low-cost transportation, such as shift from truck to rail or boat as well as combinations of different kinds of transportation.
NVOCC Ocean transport
We offer various services, such as Sea & Air, in addition to international ocean transport. We also provide optimum transportation for customers in terms of lead time and quantity.
Transportation Network
We can realize the optimum supply chain for customers by making the most of our worldwide network.
Domestic Transport
We propose various type of transportation services based on our established transportation network all over Japan.
Truck/Rail/Air Transportation
We propose the best transportation services considering product, volume, lead time, quality, cost and other conditions.
Transportation Network
We support efficiency improvement in customer's transportation based on our established transportation networks which covers all over Japan. We have a well developed operating system especially in connection between major areas and in the four major areas (Kanto, Chubu, Kansai, Kyushu).
Export & Import Solutions
We provide various services for customer's trade, including investigation of local and foreign laws, regulations and procedures for import and export. We also prepare documents and provide general support for each procedures.
Compliance Management Support Services
We provide detailed information, various notifications, application support, confirmation with customs, internal education support, etc. concerning various laws and regulations that the shipper must comply with.
Agency service
We will complete import/export procedures on behalf of shipper/consignee. Our expert team will handle documents and insurance.
Customs Clearance Service
We support all customs procedures for import and export. We quickly respond to changes in customs clearance systems and procedures in each country, while ensuring characteristics of the cargo, laws and tariff rates of the destination, etc. and we offer services safely at optimal cost.
Thailand BOI Support
In addition to logistics services, experienced staffs provide supports from operation set-up to daily operations for BOI (The Board of Investment of Thailand), which is specific to Thailand.
Logistics seminars available
We hold seminars such as "export control", "import control" or "international transport regulation" according to customer's requests.
AEO acquisition support
In order to receive certification as an AEO operator (Authorized Economic Operator), which allows for easier and simpler customs procedures, we will provide advice and support for application procedures, such as security management of cargo and improvement of your regulatory compliance system.
Logistics Engineering Solutions
To realize more optimized supply chains, we propose various kinds of logistics quality improvement. Even from the planning stage, we involve and propose engineering solutions for high quality maintenance in all logistics fields such as packing, palletizing, storing, loading and shipping. It will contribute a lot to your quality improvement and cost reduction.
Packaging/Package Design Service
We offer improvement in transportation efficiency, quality preservation, Eco-friendly packaging proposals, use of proper size pallets, improvement of loading efficiency with optimum loading, maintenance and improvement of distribution quality, and reduction of distribution costs.
Warehouse Storage/Work Flow Lines Optimization
We estimate space requirement from quantity forecast, and propose warehouse layouts that can improve efficiency of storage and work flow lines, and enhance safety.
Improvement of logistics quality
With regard to accidents and mistakes which occurs in each logistics operation, we thoroughly analyze and classify them. And we eliminate accident factors and enhance prevention actions such as education and guidance.