Mitsui-Soko Group by the Numbers
Mitsui-Soko Group's corporate vision is "Creating value from distribution.
" Since its founding in 1909, the company has supported clients all over the world in various ways.
Group Outline
Founded in1909 (Meiji 42)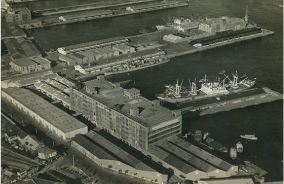 Listed on First Section of
Tokyo Stock Exchange in1950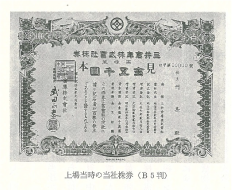 Number of group
companies81
Number of group
employees
8,502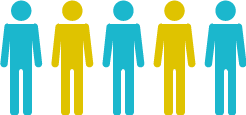 Number of countries
expanded into19
Number of locations
at home and abroad400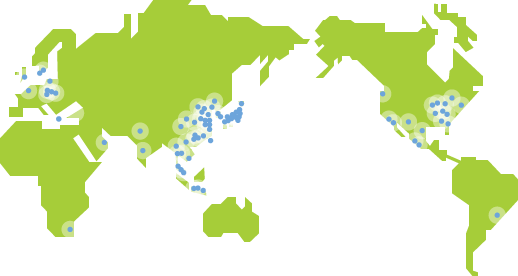 Mitsui-Soko Group started in 1909 (Meiji 42) when the warehouse section of Japan's first private bank, The Mitsui Bank, separated and became independent.
Responding to changes in the business environment and its customers' needs, since its founding Mitsui-Soko Group has grown beyond its main warehouse business and now uses those capabilities to full effect in order to support distribution in many industry sectors and regions.
By increasing its business repertoire, it has secured its position as a fully functional global distribution company.
Sales
Consolidated sales
253.6billion yen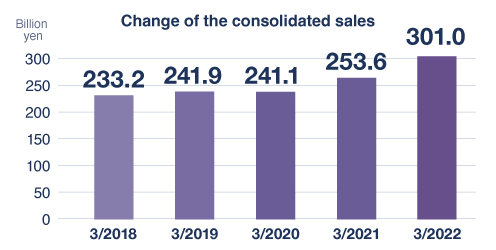 Overseas sales rate23.9%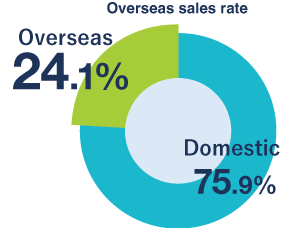 Using its global network, the company achieved an overseas sales rate of 23.9% in 3/2021.
Even beyond Japan's borders, the company provides the same high quality service, thereby establishing strong trust relationships with its customers.
Transaction Volume
Warehouse Area
Equivalent to27Tokyo Domes

*Calculated based on Tokyo Dome's area of 46,800㎡
*Actual area: approximately 1.25 million ㎡
Warehouse Storage Mass
Equivalent to14Tokyo Skytrees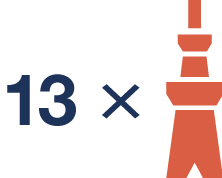 *Calculated based on Tokyo Skytree's mass of approximately 36,000 tons (total mass of tower's steel beams, including observation decks)
*Actual mass: approximately 490,000 tons/year on average(in Japan)
Air Transport Cargo
Mass Equivalent to600cargo planes/year
*Converted from 100 tons per 1 cargo plane
  *Actual mass: approximately 48,000 tons/year
Sea Transport Cargo
Mass Equivalent to38,000containers/year
*"container" means 20' container
Surface Transport Cargo
Mass Equivalent to0.9million truckloads/year
*Converted from 10 tons/truckload, Avg.60km/tons
*Actual mass: approximately 560 million tons-km/year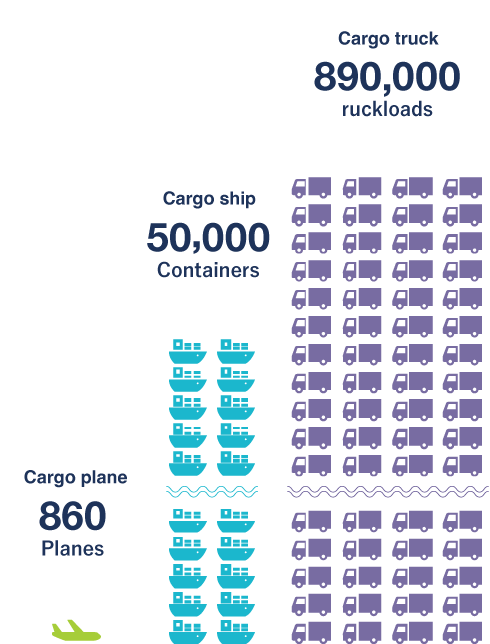 Mitsui-Soko Group has supported its customers' wide range of distribution needs across industries and sectors.
With its full lineup of land, sea, and air distribution capabilities, the company's strength lies in its ability to build distribution systems using its deep pool of knowledge and provide comprehensive solutions across the entire group to address its customers' distribution-related issues.
Additionally, the company is able to use its expertise and fully outfitted facilities to maintain the quality of medications, automotive parts, artworks, or other cargo requiring specially maintained environments, thereby gaining our customers' trust.
*All data accurate as of end of quarter March 2021
Mitsui-Soko Group by the Numbers